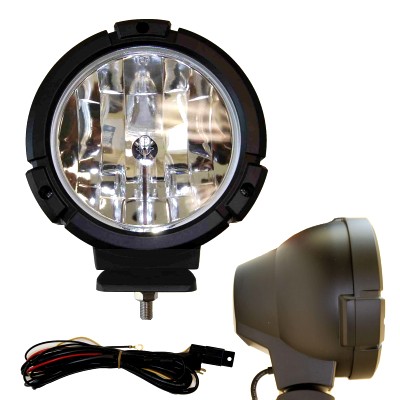 Part Number: ESH9121
Price: $339.00




We are more then happy to reserve one for you from our next shipment if you would like to continue with placing an order. You will be notified as soon as it is ready to ship.

Please for more information.




---


Product Description:
Electronicamotos's 6"ALL-In-One Built in ballast, Off-Road H.I.D. lights are rugged in design and put out a massive amount of Xenon bright white light. Perfect for all vehicles and makes a stunning accessory for any Truck, ATV's and UTV (Utility ATV's). The rugged black aluminum housing will make sure your vehicle looks great, but at the same time gives you the confidence that these lights will handle what ever you can dish out!



Technology: High-intensity discharge (H.I.D.) is a new type of lighting technology that replaces the old halogen bulbs that use heated tungsten filaments. H.I.D. lights operate more like vapor filled streetlights. They don't have a filament, but create light by "zapping" an arc between two electrodes. That arc ignites a different kind of gas usually Xenon, which in turn ignites metallic salts.

This unit offers the extremely far reaching "driving beam" light pattern.

Warranty: One year.


Vehicles This Product is Known to Fit:
Click on brand to expand/contract list.
Click on model to see all available products.