ATV Stators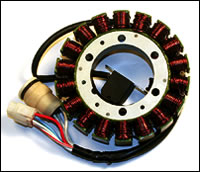 With increasing demand for high-output lighting on ATVs and side-by-side UTVs, high-output tators become a necessity. ATVs use either AC or DC power to run their headlights. These systems are oftenvery simple from the factory and provide a very minimal amount of power.
Electronicamotos ATV stators provide substantial power gains for high lighting output. Almost all of our stators are designed to be direct replacements to OEM. They include a full wiring harness with OEM style connectors to allow for easy installation. Because of our location in Southern California, with so many majorriding areas locally, we are able to develop some of the most powerful stators available. We work closely with riders and teamsto discover optimum configurations. Through years of design and field testing we have found what works.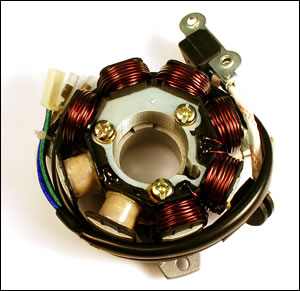 With the increasing use of HID lighting being used, converting to a DC systems becomes necessary. All HID lamp upgrades require a DC system with a regulator/rectifier and a battery. Conversions to DC are possible with many ofour stators with the simple addition of one of our regulator/rectifiers.


* It is important to note that we often include upgraded features on our performance stators, and as a result, these stators may look slightly different than the OEM units. Directions should be followed when installing any replacement stator. In addition, some of the testing procedures used for OEM stators may not apply to our parts due to different winding configurations.