Acewell 1500 Series Digital Speedometers for ATV's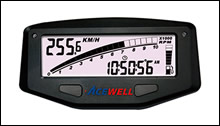 Features:
Displays speedometer, bar-graph tachometer, bar-graph fuel gauge plus one additional function at the same time.
LED warning lights for low-fuel.
Powered with either the internal CR2032 battery or the bike's battery.
Bar-graph tachometers with selectable 10,000rpm or 20,000rpm redline.
Fuel gauge includes 100, 250, and 510 Ohm options for fuel meter input resistance, as well as "fuel gauge off" mode.
Total hour meter and odometer are always kept in memory.
Universal wheel circumference setting range from 1 to 3999mm (157in, which is 4.2' diameter)
Allows end user to adjust odometer when the odometer is less than 30km / 18.6 miles
Includes bracket, RPM sensing wire, reed speed sensor, fitting kits and wiring harness.
E-mark certification (European equivalent of DOT)
Waterproof
FUNCTIONS
SYMBOL
SPECIFICATIONS
Bar Graph Tachometer
500-10,000 rpm in 500 steps or
1,000-20,000 rpm in 1,000 steps
Digital Tachometer
100-19,900 rpm, in 100rpm steps
Speedometer
1.5-248.5mph (2.4-399.9 km/h)
Average Speed
1.5-248.5mph (2.4-399.9 km/h)
Maximum Speed
1.5-248.5mph (2.4-399.9 km/h)
Trip Meter
0.0-999.99 miles (or km)
Odometer
0.0-62,499 miles (or 99,999 km)
Riding Time
0:00:00-99:59:59
Hour Meter
0-9999:59
Total Hour Meter
0-99,999H
12/24 Hour Clock
0:00-11:59 (or 23:59)
Additional Specifications:
Power Input
DC 12V
Tachometer Sensor
CDI or Ignition Coil Signal
Speed Sensor
Reed Sensor (Internal or Bike's Power) or
Hall Sensor (Bike's Power Application)</
Wheel Circumference Setting
1mm-3,999mm (157in which is 4.2' diameter)
Dimensions
4.3" x 2.2" x 0.8" (110mm x 55mm x 21.5mm)
Power Consumption
50uA in clock mode
1mA at ON status without backlight and all sensors off
2mA with all sensors on and without the backlight
15mA with all sensors on and 3 sec backlight
25mA with all sensors on and continuous backlight



If you have any questions, feel free to call us toll-free at: 1-888-369-8359 or online.





Universal ATV Speedometers - Buy Online


General:
An Acewell speedometer requires a "pick-up" cable. All ATVs will work with an Acewell S3 pick-up cable. The link below will add the Acewell 1500 with the S3 cable to the shopping cart.



Click Here for more information on the S3 Cable


Installation:
Depending on the level of experience, installation and configuration can take about 1-2 hours to complete. Here are what the installation instructions look like:
1) Mounting the Acewell Computer
2) Installing the S3 pick-up cable.



« ATV Parts :: ATV Speedometers