Acewell 3700 Series Digital Speedometers for Dirt Bikes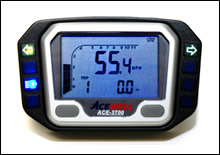 Features:
Multi-functional LCD ATV/Motorcycle computer includes analog and digital tachometer, speedometer and clock.
Computer built-in 4 to 8 LED lights for different purpose indicators.
LCD has 2 rows of digital and analog RPM bar-graph displays with backlit blue LED's.
Odometer and total riding timer are stored in memory, even when the power is off.
Displays clock even when other functions are off.
Includes bracket, RPM sensing wire, speed sensor and fitting kits.
Excellent water-resistant, anti-vibration structure and noise immunity design.
E mark approval.
FUNCTIONS
SYMBOL
SPECIFICATIONS
Bar Graph Tachometer
500-11,000 rpm, in 500 rpm steps
Digital Tachometer
100-19,900 rpm, in 100rpm steps
Speedometer
1.5-187mph (2.4-300 km/h)
Trip Meter
0.0-9,999.99 miles (or km)
Odometer
0.0-62,499.9 miles (or 99,999.9 km)
Maximum Speed
1.5-187mph (2.4-300 km/h)
Average Speed
1.5-187mph (2.4-300 km/h)
12/24 Hour Clock
0:00:00-11:59:59 (or 23:59:59)
Riding Timer
0-99:59:59
Total Riding Timer
0-9,999:59:59
Additional Specifications:
Power Input: DC 12V
Speed Sensor: Hall-Effect or Reed Sensor & Magnet
Tachometer Sensor: CDI or Ignition Coil Signal
Wheel Circumference Setting: 1mm-3,999mm (1mm steps)
Dimensions: 4.9" x 3.1" x 1.1" (125mm x 78mm x 28.5mm)


Indicators:

ACE-3701, $149.00
Universal Dirt Bike Speedometers - Buy Online

General:
An Acewell Computer MUST HAVE a "pick-up" cable. Please select the one appropriate for your bike. The "S" cable is the standard universal cable.

The Acewell and the cable will be added to your shopping cart.


Universal Speed Sensor cable with Magnet Pickup for use on any bike.
Speed Sensor cable for Honda CRF-X, Yamaha WR and KTM bike models.
Speed Sensor cable for Honda XR650R bike models.
Speed Sensor cable for Suzuki DR-Z bike models.
Speed Sensor cable for various Suzuki bike models.
Speed Sensor cable for various Suzuki and Kawasaki bike models.
Model-Specific Dirt Bike Speedometer Kits - Buy Online
If you have any questions, feel free to call us toll-free at: 1-888-369-8359 or online.


BIKE BRAND
BIKE MODEL NO.
PART NO.
BUY ONLINE / MORE INFORMATION
HONDA
CRF450X
AC3745X
HONDA
CRF250X
AC3725X
SUZUKI
DRZ400
AC3740
YAMAHA
WR250/426/450
AC3725



« Dirt Bike Parts :: Dirt Bike Speedometers