Acewell 1600 Series Digital Speedometers for ATV's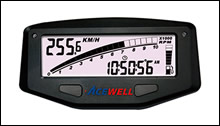 Features:
Displays speedometer, bar-graph tachometer, bar-graph fuel gauge / temperature gauge plus one additional function at the same time.
LED warning lights for over-temperature / low-fuel.
50 lap timer and wiring for a remote handlebar switch.
Powered with either the internal CR2032 battery or the bike's battery.
Bar-graph tachometers with selectable 10,000rpm or 20,000rpm redline.
Fuel gauge includes 100, 250 and 510 Ohm options for fuel meter input resistance as well as a "fuel gauge off" mode.
Total hour meter and odemeter are always kept in meory.
Universal wheel circumference setting range from 1 to 3999mm.
Allows end user to adjust odometer when the odometer is less than 30km / 18.6 miles.
Includes bracket, RPM sensing wire, reed speed sensor, fitting kits, wiring harness, temperature sensor and remote switch.
E-mark certification.
FUNCTIONS
SYMBOL
SPECIFICATIONS
Bar Graph Tachometer
500-10,000 rpm
1,000-20,000 rpm options
Digital Tachometer
100-19,900 rpm, in 100rpm steps
Speedometer
1.5-248.5mph (2.4-399.9 km/h)
Trip Meter
0.0-9,999.99 miles (or km)
Odometer
0.0-624,999.9 miles (or 999,999 km)
Maximum Speed
1.5-248.5mph (2.4-399 km/h)
Average Speed
1.5-248.5mph (2.4-399 km/h)
12/24 Hour Clock
0:00:00-11:59:59 (or 23:59:59)
Riding Time
0-99:59:59
Hour Meter
0-9999H59'
Total Riding Time
0-999,999H
Digital Temperature Meter
122°F-320°F (+50°C-160°C)
Maximum Temperature Meter
122°F-320°F (+50°C-160°C)
Voltage Gauge
8.0-25.0 Volt
Bar Fuel Meter or
Bar Temperature Meter
100Ω, 250Ω, 500Ω options
1-7 Bar-graphic
LAP Timer
50 Laps
Additional Specifications:
Power Input: DC 12V
Speed Sensor: Hall-Effect or Reed Sensor & Magnet
Tachometer Sensor: CDI or Ignition Coil Signal
Wheel Circumference Setting: 1mm-3,999mm (in 1mm steps)
Dimensions: 4.3" x 2.2" x 0.8" (110mm x 55mm x 21.5mm)
Universal ATV Speedometers - Buy Online
If you have any questions, feel free to call us toll-free at: 1-888-369-8359.




« ATV Parts :: ATV Speedometers